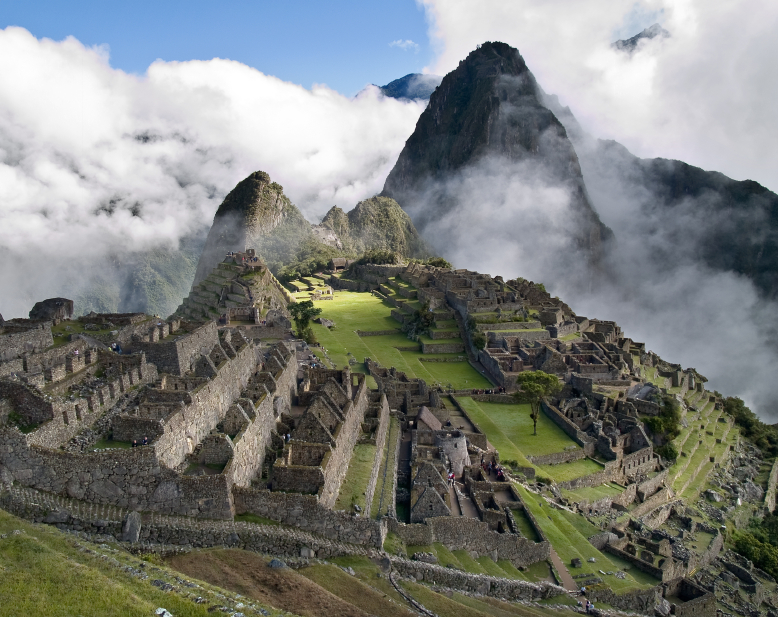 I had heard from friends that the Inca trail in Peru is overcrowded and "touristy" and for months before my big trip I had considered skipping that portion and taking that time to do something else. I had heard that you can find yourself standing in line to use a rope bridge and that sometimes there weren't enough guides for all of the guests trying to make the trek to Macchu Picchu. Even so, I couldn't stand the thought of flying all that way just to say I took a bus to the top of the trailhead. I travel because I believe each experience is one worth having and I knew that by taking the Inca Trail hike (no matter how congested or touristy) that I would have a great story to tell and that the sight of Macchu Picchu would be much more rewarding once I arrived. Well, as you can see from this amazing picture I made it through the four day hike to the summit and I was rewarded with rolling misty fog enchanting an already amazing site. I was exhausted to the point of nausea by the time I reached the temples, but as you'll see in some of my other pictures, the journey there was as rewarding as the end.
The company I did my Peru hiking through is called KB Tambo and I would most certainly recommend them to anyone looking for adventure. I found it to be the perfect mix of structured travel and explorative adventure. The guides that work for KB Tambo are extremely knowledgeable in all things Peruvian. They can tell you the ways one can travel from Cusco to Lima, how long it might take and how many Soles you can expect to spend. Before you even make the journey down there you can visit their website to get valuable information on things like what kind of vaccinations you might need (none if you are staying above 500 meters and away from the Amazon region), what kind of clothes to pack and how far you can expect your dollar to go in Peru given the current exchange rates. I found it to be a very helpful starting place and from there I was able to read blogs and other information sites to hone my search. Besides the tour guides knowing the answer to virtually any cultural or area specific question, I thought the experience with KB Tambo was far beyond my expectations. The hostel is easy to find as it is centrally located in the center of town. From there guests are encouraged to walk around, explore the cities sights and sounds, to soak up the culture.
I could go on and on about the smallest details of that journey but it would take me a few more paragraphs before I even got to my Macchu Picchu adventure! There's just so much to tell I don't know where to start. In my two weeks in Lima I traveld by bus, horseback, taxi, train and of course I did a fair amount of trekking while in Peru. In a word, it was a very memorable experience and one I will never forget.